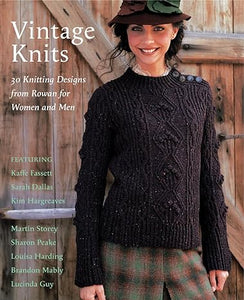 Glorifying the recovered pleasures of fine cloth, rich texture, and a relaxed fit, this collection of vintage patterns draws its inspiration from the charm, simplicity, and elegance of mid-20th-century clothing. Rejuvenated by the postwar years, men and women embraced styles that captured feminine appeal and masculine exuberance, with well-tailored designs and graceful finishing touches that are re-created here. The 31 patterns in this volume—from cardigans and jackets to scarves and pullovers—have been inspired by old photographs, archival patterns, and classic Hollywood films and have been adapted for modern figures and contemporary knitters.
Author(s): For Rowan by Kaffe Fassett, Sarah Dallas, Kim Hargreaves, Martin Storey, Sharon Peake, Louisa Harding, Brandon Mably, Lucinda Guy 
Paperback
Excellent condition
Length: 138 Pages
Language: EN English
Publisher: Trafalgar Square Books
Publication date: 2010 April 1
Dimensions: 9.0 x 0.5 x 10.0 inches
No returns. All sales final.