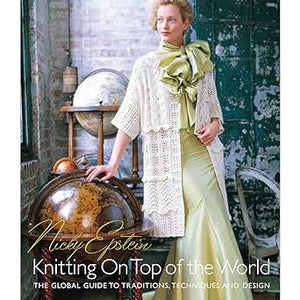 Nicky Epstein's blockbuster Edge titles have sold more than 125,000 copies; she's a needlework star whose every book is eagerly anticipated and snatched up. Now Nicky's giving devoted readers her most important and wide-ranging collection of patterns yet: a worldwide tour of knitting traditions and techniques, including colorwork, cables, lace, intarsia, and more. She explains the origins and traditional uses of each one, and then goes on to reinvigorate and recombine all these beloved styles in her inimitable way. The result: more than 40 all-new, innovative designs collected in an attractively designed book with a handy ribbon marker. There's a Celtic Pullover with braided twisted rib strips; a Snowflake Tunic from the Far North; a Felted Tyrolean Capelet with appliqué, cord, and balls; a Spanish Rose Pullover with lace accents; a colorful Peruvian skirt; and an oversized, zipped Navajo Blanket Jacket.

Colorful maps and historical photos make this collection a visual treat, as well as an invaluable tool for knitters seeking new inspiration.
Author(s): Nicky Epstein
Hardcover
Length: 248 Pages
Language: EN English
Publisher: Nicky Epstein Books
Publication date: 2008 November 4
Dimensions: 9.8 x 1.0 x 11.5 inches
No returns. All sales final.