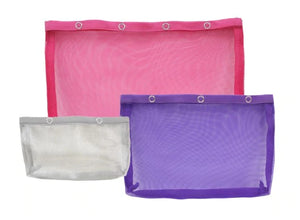 Protect and contain your yarn while knitting! The flat-bottomed bag stays upright and keeps your yarn contained and tidy wherever you take your knitting. 
Vibrant colored pouches to store all the important things. Look from the outside as you search and be able to find things in a hurry! Durable material & easy wash ability. 

Available in set of three pouches:
Small: 6.5" x 3.9"
Medium: 8.4" x 5.9"
Large: 11" x 7.8"