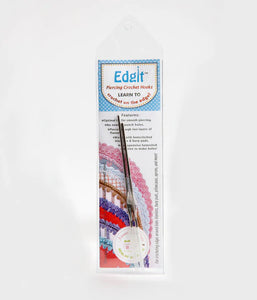 Crochet Hooks Have An Optimal Tip For Smooth Piecing There Is No Need To Punch Holes And They Can Pierce Through Two Layers Of Flannel

They Work With Fingering Yarn 7-8Sts/Inch And #5 And #10 Crochet Cotton

This Package Contains Two 5 Inch Tall Metal Crochet Hooks - 1 sharp for cutting holes/crocheting and the other a standard crochet hook suitable for crocheting with crochet cotton #5 or #10

Country Of Origin : United States
About The Edgit!
Cony Larsen, aka Ammee, founded her designing company in 1987; dedicated to create a wide library of copyrighted artwork and patents to service the party and scrapbook industries.
Since then, we have expanded our creative engine into crochet pattern books, sewing patterns, and the newest addition to our family, the Edgit! Piercing & Crochet Hooks.
The Edgit! will be the only tool you will ever need to do your very own hemstitching/piercing at home! At Ammee's, we are thrilled to introduce the solution to crochet on the edge of fabric without having an expensive machine to punch the holes.
In the 1950s, Singer stopped manufacturing the Hemstitcher, this was a machine that perforated holes along the edge of fabric allowing a crochet hook to go through the holes easily.
Since then, crafters have tried to crochet on the edge of fabric by making their own holes with ice-picks, paper punches, rotary cutters, and many other methods too funny to mention!
The concept of the Edgit! began three years ago and after much work and testing, we finally introduced the Edgit! Piercing & Crochet Hooks at TNNA in Columbus, OH, June of 2013. Our new tool will change the way crochet on the edge has been done for decades, at a tiny fraction of the cost of an expensive machine.
The Edgit! will, once again, bring back a vintage craft that was almost lost. The Edgit! allows you to crochet on the edge in one step, without having to pre-punch holes on the fabric; you can edge bibs, aprons, dresses, kitchen towels, etc, using your own fabric!